The GHS girls' basketball team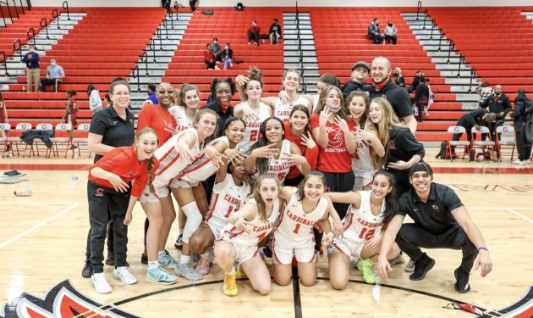 Basketball season is finally here for the Cardinals after a long offseason, and the school is full of excitement.  
Tryouts will be held for both the boys' and girls' teams on November 7th, 8th, and 10th . To be eligible to try out for the team, everyone must have their Physical and Concussion training documents submitted to Coach May. The coaches of the Girls basketball team are Daniel Nemerow, EJ Baltimore, Lindsay McKay and Kiara Thomas, who plan to take the team farther than where they were last year and raise their expectations of the girls.  
Last year, the girls' basketball team had a historic season. As a first-year team, they had a winning record, qualifying for playoffs and regional playoffs. It's very rare to accomplish what they had, considering they had so much adversity on their side.  
In the middle of their season, Covid hit the cardinals, which paused their season for two weeks. On the same day they were cleared, they were scheduled for a game against Freedom Woodbridge High school. They lost that game and the following three right after from being away from basketball for so long. Luckily, they were able to switch gears and win their game against Osbourn after their three-game losing streak. The playoffs were around the corner and the cardinals' first game to qualify for regional playoffs was against Unity Reed High School. Their win against Unity Reed granted them an opportunity to further their season and continue to regionals. Their season ended with an exciting five-point deficit against Senior Woodbridge High School on February 21st, 2021.  
The Cardinals are expected to have a stellar season this year, so if anyone is interested in being a part of their story, come try out for the team today, tomorrow, and Thursday.